An Arizona Collapse Insurance Claim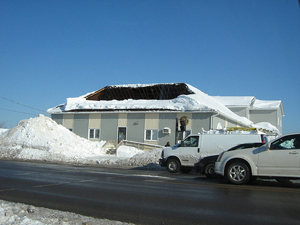 Property Claim Adjusters Can Make Sure You Receive Full Benefits For Your Collapse Coverage.  Insurance claims for collapse can be complicated. Most policies have an exclusion for collapse, but then add it back into the policy as an additional coverage. However, this additional coverage contains many stipulations to go with it. Collapse claims are not as clear-cut as other types of losses in terms of determining coverage and damages.
If you find yourself in a situation where your property has suffered damage due to collapse or shows signs of imminent collapse – DO NOT WAIT! Call us to come and inspect the property immediately. We will be able to advise you on the proper course to recovery, and assist you through this process from filing the claim, engaging the proper experts, and bringing the claim to a favorable conclusion. A loss by collapse occurs when either an entire building, or a section of a building, suddenly falls down or caves in. This not only endangers the well-being of a building's occupants, it can also lead to the destruction of their personal belongings. Moreover, a building collapse can temporarily leave a person without a home or a business to return to.
Causes of Loss by Collapse Include:
Rain that collects on a roof
Damage by vermin or insects
Weight of people or property
Vibration (due to nearby construction)
Defective building materials if the loss occurs during construction, remodel or renovation
Insurance policies often have exclusions for collapse. Instead, this specific form of loss or damage can be provided under "Additional Coverage for Collapse." There are often many stipulations that go along with this "other coverage" that can make the process of interpreting policies, assessing damage and filing claims very complicated.Furthermore, insurance policies contain very specific definitions of "collapse," which your carrier may leverage to try and minimize your claim. For example, if the building is still standing, it may not qualify as a "collapse."When it comes to a collapse claim, the devil is in the details. That's why it's so important that you have an experienced public adjuster on your side – who understands how to read the specifics of your policy.
Don't let your insurance company deny or minimize your collapse claim. Contact Property Claim Adjusters today, your ally from claim to settlement.
Our public adjusters understand the ins and outs of insurance policies. Count on us to correctly assist in filing your claim and preparing an estimate of all collapse-related damage.
We will help you document all of your personal belongings. As your advocate, our team will make sure that you receive appropriate compensation.
If your residence is uninhabitable, our public adjusters can help you obtain temporary housing until repairs are completed.
If your business has been rendered inoperable, and your income has suffered, we will prepare and file a business interruption claim on your behalf.
If your home or business has been impacted by a building collapse, contact Property Claim Adjusters without delay. Our licensed public adjusters will work hard to obtain a maximized settlement for you. Also, keep in mind that
YOU DON'T PAY US UNTIL YOU GET PAID.
FOR PROFESSIONAL INSURANCE CLAIM REPRESENTATION IN ARIZONA, CALL PROPERTY CLAIM ADJUSTERS TODAY!
BUT, I ALREADY HAVE AN INDEPENDENT ADJUSTER WORKING ON MY CLAIM.
The word "independent" means that the licensed adjuster is able to represent more then one insurance company. Although he is "independent," he does represent the insurance company, not the policyholder.
MY POLICY SAYS I'M TO MAKE TEMPORARY REPAIRS TO PROTECT MY PROPERTY.
Property Claim Adjusters will help you make these important decisions as part of the many services we provide. A good rule of thumb is to protect your property as if you had no insurance at all.