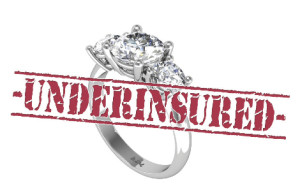 Everyone has personal property – possessions that are new and old – that they would like to protect in case the unthinkable should happen.  I'm going to tell you about some ways you can protect yourself and your personal property before a loss occurs.
First, let's look at how personal property insurance works.  The amount of coverage you have for your personal property is typically between 50-70% of your coverage A limit.  Coverage A is the insurance limit on your house or dwelling.  In your policy, your personal property is insured under coverage C.  This is the maximum amount your policy will pay for any single loss.  If it's an all risk policy, it will include all types of losses, unless they are specifically  excluded.  If it's a named peril policy, you will see a list of the types of losses covered. Any type of loss not on that list will be excluded.
Now that you can navigate your policy and understand some of the wording used, there are a few specific things that you may want to know about personal property.  For instance, if you collect fine art and have a rare and valuable painting worth $100,000 dollars or more that is destroyed or ruined due to a covered loss, there is a limitation on how much your policy will pay to replace that item.  That's called a "cap," and that's not the only item with a clause like that built in to your policy.  Clauses like this also exist for jewelry, watches, antiques, silverware, furs, cameras, musical equipment, certain kinds of sports equipment, and memorabilia (autographed footballs, CDs, records, ect).  Items such as these are hard to put a value on, and because of this are subject to the limits stated in your policy.  You can still, however, protect your unique one–of–a-kind items with a scheduled personal property endorsement.  This endorsement also doubles as proof that you had the item in question in the event that it is destroyed in a loss.
Underinsurance on rare collectables is one thing, but most people wouldn't think that they are underinsured for the sort of things you'd find in every home.  While your policy might pay in full in the event of a loss, most policy limits for the contents of your home aren't enough to replace everything.  If you have a fire, even if everything isn't damaged by the fire, smoke can be very damaging to your belongings, too.  So, even if the fire is contained to a small part of the house, the smoke can circulate and cause harm to a great deal of belongings.  The best way to deal with most of these issues is to inventory the items in your home so you know how much coverage you will need in order to be indemnified by your insurance company in the case of a loss.
The task of inventorying everything in your house can seem quite daunting, so here are a few things you can do to begin:
Do a video walkthrough of your house showing all of the major items in each room, and a view of each closet, so that roughly everything can be seen.
Save receipts of major purchases such as TVs, furniture, appliances, electronics, and other things of value.
Take photographs of items that show brand names and/or model numbers. This can be very helpful in the contents inventory portion of a claim.
Be sure to keep all of your inventory information in a weatherproof safe, safety deposit box, or other safe and secure place.
Don't let yourself be underinsured.  Being informed and knowing how much coverage you need plays a big role in reducing the impact of a loss.