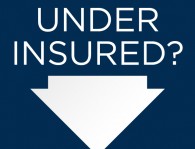 I'm currently working on a fire claim for a client who is underinsured on their home by just under 20%, and on their personal property by at least 50%.  They, like many homeowners here in the Phoenix area, thought that insuring their home for the market value would be sufficient. However, the market value of a home (which is the price it would sell for today) is a very different value than the cost of reconstruction in the event of a total loss.  Having to make up the additional 19% is a large number when you're talking about a home valued at $240,000.  Not many people have an extra $45,000 laying around.
The cost to reconstruct a damaged home, or rebuild a home that is totally destroyed in Arizona is based on many variables.  The Arizona Department of Insurance has compiled a list of companies that provide home replacement cost estimates at:
http://www.id.state.az.us/publications/home_replacement_cost_calculators.pdf
If you've had a loss and you find yourself underinsured, you might be asking yourself why would you ever use a public adjuster?  They will only charge you a fee – which will also come out of your underinsured settlement.  This is a good question and one that's important to consider.
Most people read the declarations page of their policy (the first page that shows the coverage limits) and think that's all she wrote.  Well, that's not necessarily so.  As public adjusters, we are experts at reading and interpreting policies and can often find coverages that go above and beyond the limits of your policy.  We often get our clients more money than they would have been able to get on their own – even after they've paid our fee.